Attention all Katie K fans everywhere! Want to see her butt naked when she was just a 19 year old newbie on the scene?
Well here she is from a shoot done in 2007 in a St Annes hotel near her home town of Blackpool.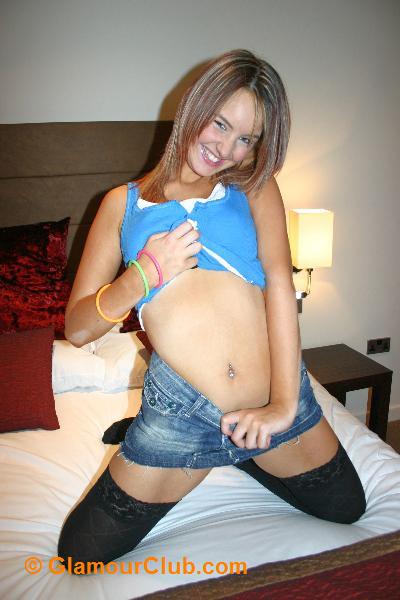 When I did this shoot it was barely a year since Katie had burst onto the porn scene and so she was also still doing her part time job at a local fast food takeaway! She said she had to put up with some bitchy comments from some female members of staff who called her a slut for showing off her pussy for money, but the male members of staff had no such problems with it…ha!ha! I can't think why… 

I remember seeing her as a fresh faced 18 year old on a late night TV show who were filming her after she'd won a competition to go on the set of an LA porn shoot. So when I saw she was available for bookings with amateurs I jumped at the chance as I'd already become a big admirer! 

Katie's pussy is one of the tightest I've ever seen, indeed she said that she'd had problems with the size of some of the toys that she'd been asked to insert on porn shoots which had caused her to visit the doctor about it!
You might also notice in some photos she's got something stuffed up her pussy, well it's a sponge! It was her time of the month and this was a porn industry trick she'd learned that allows models to keep working as normal lol! 

Katie couldn't stop playing with herself during this shoot so it's packed full of explicit poses including pussy spreading, ass cheek spreading, finger insertions and using toys.
Oh, and I can confirm that her personality in the flesh really is as cute as she comes across on film!
Katie K Bed Black Stockings Part 1
Model: Katie K
Age at time of shoot: 19
Levels limit: Explicit nude
Shoot Style: Home
Year: 2007
Location: Hotel room, St Annes near Blackpool, United Kingdom
Photo album: Katie K Bed Black Stockings
Number of photos in this set: 141 (001-144)
Here's the first batches of photo samples from the first set from my shoot with Katie K in 2007 at a hotel in St Annes near Blackpool. Katie goes for the naughty teen look here in her sexy over the knee black stockings and short denim skirt.
To purchase all photos from this explicit top shelf magazine style shoot in high resolution see Katie K Bed Black Stockings.
The image zip file also contains five more photo sets from this shoot which I haven't yet blogged about so look out for the sample blog photos for those in the future. So you get all 721 pics from the six sets when you buy.
Tease photos…