A treat for fans of exotic British glamour babe Natalia Forrest from 2008 when she was only 20 years old

 .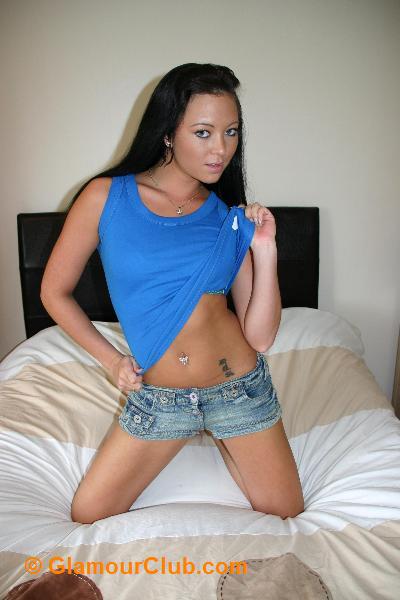 The shoot was actually done at the home of Katie K, another top British glamour model. So I have some girl-girl sets of both of them together so also look out for those in the future.
In each set Natalia does a striptease for us. As well as loads of pink spreading shots of her beautiful bare pussy she also does finger insertions and uses a toy.
Despite such glamourous looks Natalia was a really level headed girl and we enjoyed some good banter during the shoot.
It's great to see that 7 years on, Natalia is still going strong in the adult glamour modelling industry and has carved out a very successful career for herself.
Natalia Forrest Bedroom Denim Shorts Part 1
Model: Natalia Forrest
Age at time of shoot: 20
Levels limit: Explicit nude
Shoot Style: Home
Year: 2008
Location: Katie K's home, Blackpool, United Kingdom
Photo album: Natalia Forrest Bedroom Denim Shorts
Number of photos in this set: 131 (001-132)
Here's the first of two batches of photo samples from the first set from my shoot with Natalia Forrest in 2008 at Katie K's house in Blackpool. She wears a very tight pair of denim shorts and a tight blue top which she soon removes and poses topless in a sexy thong.
To purchase all photos from this explicit top shelf magazine style shoot in high resolution see Natalia Forrest Bedroom Denim Shorts.
The image zip file also contains two more photo sets from this shoot which I haven't yet blogged about so look out for the sample blog photos for those in the future. So you get all 364 pics from the three sets when you buy.
Tease photos…