British glamour model Lexus getting rude in her own home 

.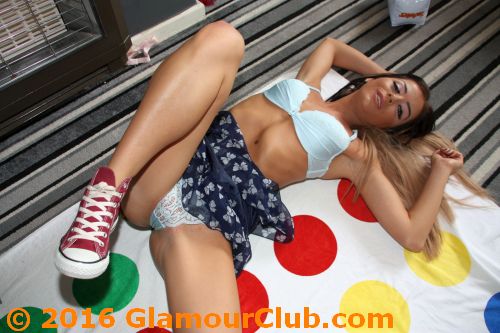 To purchase all 362 photos from this explicit top shelf magazine style shoot in high resolution go to Lexus at Home.
Lexus is a currently active model who covers many different styles. Indeed she's probably not known for doing more explicit shoots like this one. She was 21 at the time of the shoot.
This is an amateur style photo shoot in what was Lexus's own house at the time. When I arrived she was in the garden next door chatting away to some neighbours, little did they know what sort of poses she'd soon be doing right under their noses! e.g. bare ass up in the air! 
Lexus was very easy going to chat to and it really was a case of shooting a normal girl that you might see at the supermarket.
I didn't notice it at the time but when reviewing the photos after I noticed there is a glisten of dampness in her pussy in several shots. She also did far more pink and spreading shots than I asked for. So there's no doubt she genuinely gets turned on by doing explicit shoots.
She's since had a boob job which personally I'm not usually a fan of, so I'm glad I managed to capture her naked in her natural form.
Lexus at Home
Model: Lexus
Age at time of shoot: 21
Levels limit: Explicit nude
Shoot Style: Home
Year: 2016
Location: Model's home, Wigan, United Kingdom
Photos zip file:  Lexus at Home
Number of photos: 362
The photos zip file contains 3 different sets (362 pics): pink dress and white undies, twister mat, and naked in the bed. I also have video clips of the same themed sets so look out for those in the future.
More tease photos…