Blonde Alice was a pert young 20 year old when this video was shot. She was one of the models on the nude glamour modelling holiday in Portugal that I went on in June 2010, run by Glamour Breaks. This is the first of two fly on the wall style video clips from this set, recorded during a photo session with another photographer.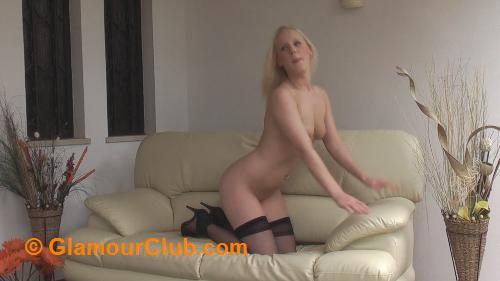 She was inexperienced at shooting video so comes across as quite naive, which I think adds to the fun of the shoot as you can tell she gets more relaxed and hornier as it goes on 
 .
She gives her pussy a fair old workout here with pink shots, spreading, masturbating and finger insertions. Also some ass cheek spreading. The photographer tries to get her to stick her fingers up her bum but she giggles and says she doesn't do that, a step too far perhaps… 

The video was shot at the villa where the models and some of the photographers were staying. We moved the couch outside onto the front porch of the villa. There were three photographers including myself on this shoot, although one of them was just on reflector duty the whole time but somehow I doubt he was bored…
Several cars went past during the shoot but were probably driving too fast to notice, they should have slowed down then they could have been treated to the sight of a naked Alice sticking her bum high in the air!
Model: Alice
Age at time of shoot: 20
Levels limit: Explicit nude
Shoot Style: Outdoor
Year: 2010
Location: Villa, The Algarve, Portugal
Video WMV format: Pert young blonde Alice posing out front of villa in Portugal Part 1 or


Video MP4 format: Pert young blonde Alice posing out front of villa in Portugal Part 1 or

To view a short preview and purchase this video clip click the link above for your preferred video format, or click Buy Now.
Here are some actual screen grabs from the video clip, enjoy…