Honey B has been a popular model in the United Kingdom for over a decade. She has done all kinds of modelling including explicit nude levels. When I did this shoot in 2005 she was only 21 but already a regular in several British top shelf magazines. Indeed I had already seen two sets of her in Teazer Just 18 magazine, so it was exciting to finally meet her in person to photograph in a rude adult nude shoot of my own making!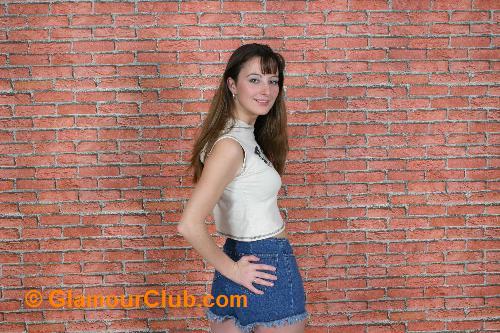 The location was Glamour & Entertainment Studio in Clacton-on-sea, which sadly I don't think exists anymore. I was attending a training course that week and staying south west of London and decided to arrange this shoot for one of the evenings, but it was a fair old drive in very heavy traffic, circling south of London then through the Dartford Crossing. I must admit I had completely misjudged how long the journey would take so I turned up late at the studio, which is not something I make a habit of doing. Fortunately the chaps at the studio were very laid back about it and still made me a nice cup of tea

 .
It was an absolute pleasure to photograph Honey. She was a genuine girl next door, both in looks and personality. Easy to talk to, she had a warm glow about her throughout the shoot and I think she was genuinely turned on by it as she developed a hot flush on her face and chest. Looks wise she has a fresh face, a petite body, great pair of tits, and smoothly shaved pussy. Note also the plump, prominent pair of pussy lips which Honey is renowned for among her fans 
 !
A self confessed ladette, she said most of her mates were blokes and that one of them was a lorry driver who she sometimes let come on her shoots to watch her, and he wasn't even her boyfriend! Wish I'd had female mates like that when I was in my twenties!
Honey B Striptease Studio Stool Part 1
Model: Honey B
Age at time of shoot: 21
Levels limit: Explicit nude
Shoot Style: Studio
Year: 2005
Location: Glamour & Entertainment Studio, Clacton-on-sea, Essex, United Kingdom
Photo album: Honey B Striptease Studio Stool
Number of photos in this set: 182 (001-182)
For the first photo set from this shoot Honey wore a pair of sexy denim shorts and a crop top. She does a striptease for us and ends up butt naked except for her Puma trainers
 .
To purchase all photos from this explicit top shelf magazine style shoot in high resolution see Honey B Striptease Studio Stool.
The image zip file also contains three more photo sets from this shoot which I will add sample photos to the blog for in the future, so you get all 437 pics from the four sets when you buy.
For the blurb from my second shoot with this model in 2007 see Honey B famous British top shelf babe strips for Glamour Club.
Tease photos…