Here's more of 22 year old brunette Jaqi from the Glamour Breaks glamour photography holiday I went on in June 2010. This time we enjoy watching her masturbating on a clifftop in Portugal during a group video shoot. A couple of the chaps were just taking photos.
There were five photographers on the clifftop with her and we didn't even ask her to masturbate, it was just explicit nude posing that we expected. But she wasted no time in whipping off her bikini and was soon playing with her pussy, and all this in public remember! 

A walker appeared just before we started and wanted to watch (can't blame him in fairness…) but two of the photographers wouldn't let him and scared him off. If a model doesn't want anyone else watching then I can understand that but Jaqi is a free spirit and would enjoy hundreds watching her! So I thought it was a bit harsh that we spoiled that bloke's chance of seeing a naked glamour girl during his morning stroll.
I have plenty more video of the lovely Jaqi so look out for her again.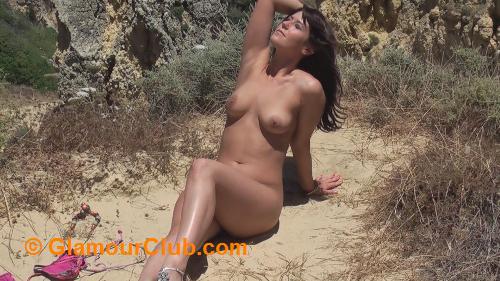 Model: Jaqi
Age at time of shoot: 22
Levels limit: Explicit nude
Shoot Style: Outdoor
Year: 2010
Location: Clifftop, The Algarve, Portugal
Video WMV format: Jaqi masturbates on a clifftop in Portugal or


Video MP4 format: Jaqi masturbates on a clifftop in Portugal or

To view a short preview and purchase this video clip click the link above for your preferred video format, or click Buy Now.
Original blurb introducing this model see 22 year old girl next door Jaqi.
Here are some actual screen grabs from the video clip, enjoy…