Been really busy both inside and outside of work so my blog updates have slowed down a bit recently. Indeed I'm doing well getting this one out as I'm off on holiday tomorrow

 .
I have a second holiday soon after the first one, but from September I want to get some video clips and rude photo sets onto the on demand provider's website, and of course get back to more regular blog updates.
Honey B is a well known model from the British top shelf porn magazine scene having been published in countless sets over the past decade. She's got the girl next door quality, and I had a great time shooting with her as you could tell that she genuinely loves showing off her naughty bits for the camera.
This was actually the second time I hooked up with Honey as I also did a shoot with her when she was only 21 and even cuter! 

  That was at a studio in Clacton-on-Sea, more on that other shoot in the future.
I arranged this shoot whilst down on business at a conference at Earls Court Exhibition Centre. The hotel was literally next door to the exhibition centre however it turned out to be a small guest house and the room was tiny and very basic. So this shoot is a great example of making the most of a poor location as we managed to squeeze out six different photo sets.
It was also quite funny trying to sneak her into my hotel room because the place was so small and I got the impression they would be a bit pissed off with sneaking extra guests in. So I told her to come in via the back entrance at the car park and I crept downstairs to let her in 

 .
Honey I spunked the jizz! (sorry couldn't resist that last line 

  )
Honey B Denim Shorts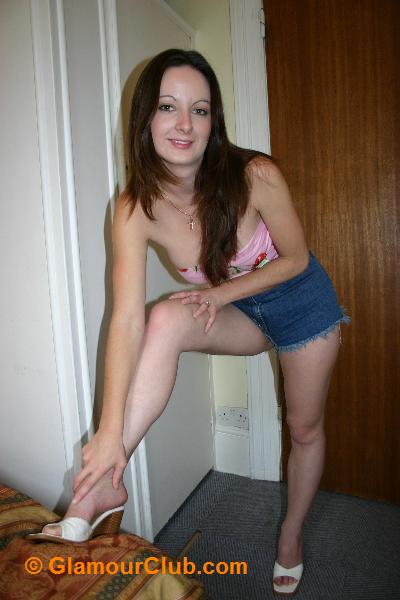 Model: Honey B
Age at time of shoot: 24
Levels limit: Explicit nude
Shoot Style: Hotel
Year: 2007
Location: Hotel room, Earls Court, London
Photo album: Honey B Denim Shorts
Number of photos in this album update: 50 (001-050)
For this first set Honey B looks a summer cutie in her denim shorts, flimsy top and heels. She teases us for a while before finally popping out those lovely natural tits of hers
 . Right at the end she pulls down her denim shorts to reveal a pretty pair of pink and black panties.
Even though she doesn't get naked in this set there are still some hot poses e.g. check out the shots where she opens her legs and you'll see how highly cut those shorts are.
I have another five sets of Honey B from this shoot where she gets much ruder, posing to explicit top shelf magazine style levels, so look out for her sets in the forthcoming restricted content website. As ever there will be some samples of these sets posted to the blog.
All photos from this shoot in high resolution see Honey B Denim Shorts.
Tease photos…