Introducing Beccy Oxley who was an instantly likeable Yorkshire girl working as a lap dancer in a strip club in Ibiza. I think it was called Temptation and I've visited many times. However I remember it being far better back in 2006 when this shoot was done, the girls were prettier than I saw in my more recent visits and especially Beccy who I instantly had the hots for, dolled up in her pleated tartan mini skirt.
I usually avoid the San Antonio night life except for taking a visit to tour the strip clubs, since you're guaranteed to meet some British girls which makes it easier to strike up conversation and size up whether any of them might be up for doing some nude modelling.
You might be surprised to know that it can be a bit awkward broaching the subject of doing glamour modelling with lap dancers as so many of them won't do it, just as so many glamour models won't do lap dancing, women eh! 

It's also a bit risky since you are arranging to meet up with the girl whilst she's working and we all know what strip club managers think about that! They might view it as soliciting.
So in this case it wasn't until I'd had several private dances from Beccy and had got some banter going with her, that I first suggested we meet up for a nude glamour photo shoot. Fortunately she was really keen to give it a go. I decided to also mention to the manager that I wanted to photograph one of his girls before exchanging phone numbers in case he got the wrong idea. Having business cards for the website with me must have helped but he was cool about it.
So we met up a couple of days later and I took Beccy straight to Cala Xuclar in the north of the island as it's a very quiet spot (although getting busier nowadays). There were of course some locals and families on the small beach so we went round to the rocky enclaves to a great spot that I know and fortunately nobody else had already claimed it for the day.
This was one of my favourite photo shoots to date because I was in Ibiza for a holiday first and foremost so this was essentially unplanned, and I love to shoot with girls who haven't got much (if any) experience of glamour modelling as it means my photos are going to be pretty exclusive.
Beccy literally spent most of the day naked for this shoot because even when we took a break to sunbathe she didn't bother putting on a bikini. Which was even more joy for my eyes I guess! 

I've done shoots with other nude glamour models in Ibiza since this one but it's become much more difficult to get away with when you are doing what is classed as a porn style shoot. They brought in some new local laws that mean you are supposed to get a permit when shooting anywhere in public, however the greater hassle is that the quiet locations are getting busier every year. Yes, many people who visit Ibiza are very open minded and won't bat an eyelid, however the busier it gets the more chance someone will take offense and call in the police. So I think private villas or boats are the way forward for doing these type of shoots. Villa I've done but still to do one on a boat, any boat owners care to volunteer? 

Please enjoy these fleeting glimpses of Beccy, there will be a lot more of her on the restricted pay site.
Beccy Oxley Bikini Tease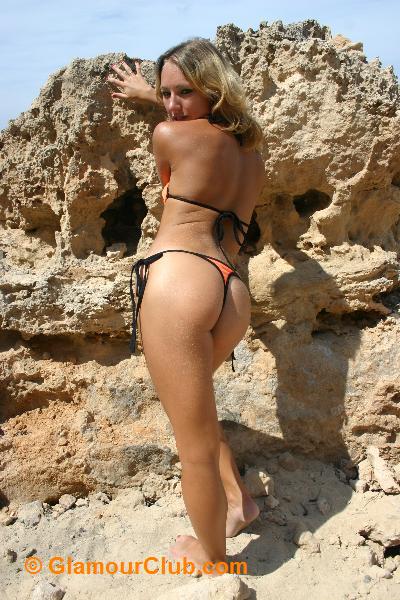 Model: Beccy Oxley
Age at time of shoot: >18
Levels limit: Explicit nude
Shoot Style: Outdoor
Year: 2006
Location: Cala Xuclar, Ibiza
Photo album: Beccy Oxley Bikini Tease
Number of photos in this album update: 26 (001-026)
For this first set Beccy teases us in her thong bikini with some great bum shots and she pops out her small but perfectly formed tits.
I have another six sets of Beccy from this shoot where she poses to explicit nude levels, so look out for her sets in the forthcoming restricted content section. As ever there will be some samples of these sets posted to the blog.
All photos from this shoot in high resolution see Beccy Oxley Bikini Tease.
Tease photos…