I'm between holidays this week but managing to squeeze in another blog update. When I get back from this second holiday I will be setting up my own channel on a popular porn clips provider, and that will be the home for Glamour Club's explicit photo sets and video clips. Can't say what provider it is yet as you need to run a new channel for two weeks before you are accepted and are allowed to reference it from another website.
But for now let's focus on Sarah Blue, a 23 year old Scottish girl from Dunfermline

 .
Sarah is really just an everyday normal girl that happens to also have the body of a model. Sarah is her real first name, but 'Sarah Blue' was a stage name and not to be confused with any adult models who also use this stage name as I wouldn't class her as an out and out professional model. However I think modelling was her main income at the time of this shoot, and she had worked with a lot of photographers in Scotland. What she hadn't done much of however, was explicit nude modelling, so it was cool that she agreed to do it for Glamour Club.
I would class this as an amateur style shoot and it really did feel like I was doing a rude photo shoot with a girl that lived down the street, as when I arrived at her home I found that she lived with her mum and younger sister. Mum was very welcoming and made me a nice cup of tea and biscuits, and she was also a bit of a MILF in truth

 . She seemed quite liberal minded and chatted about how if she was her daughter's age she'd love to do modelling. Although whether she knew that her daughter would be spreading her pussy lips and wiggling her naked ass in the air doggy style for me, is of course another matter entirely 

 .
Sarah's younger sister didn't seem so keen on the idea of her big sister getting naked for strangers as the tension between them about it was obvious. Unlike mum I think little sis' knew exactly what sort of modelling it was going to be

 . As the sister was still only 17 and they shared a bedroom, the same bedroom where I would later be taking photos of her big sister showing me her fanny, perhaps it's understandable why little sis' didn't approve.
It was a glorious summer's day so we started off shooting outdoors. Sarah's house was in an estate on the edge of town so this location was actually only five minutes away from her home by car. There were doggy walkers and joggers so it was interesting and horny that one of Sarah's neighbours could literally have stumbled upon seeing her totally naked with her legs wide open!
Without realising we had ducked into a farmer's field and after unsettling some curious cows the farmer drove up in a quad bike to see what all the fuss was about. He was cool about it though and I joked that he'd probably been watching the shoot through his binoculars, which he didn't deny ha! ha!

 . He told us we could use the next field along away from the cows.
As you will see in many of the photos the sun was very strong and as much of the location was exposed there was little escape from it. So after also doing a set of Sarah posing in my car we went back to her house for the second half of the shoot.
She did a naked Twister set in the lounge where you could hear her mum working in the kitchen next door, and during the bedroom set her sister knocked the door to come in for something, precisely at the point where Sarah was kneeling on the bed doggy fashion with her bum high up in the air and luscious pink pussy in full view!
Sarah didn't need to be told to play with her pussy and often her fingers wandered down there unprompted so I got a lot more pink and spreading shots than I'd anticipated from this shoot. Which was nice 

 .
Anyway, time I wrapped up this blog update and start getting my suitcase packed.
Sarah Blue Summer Dress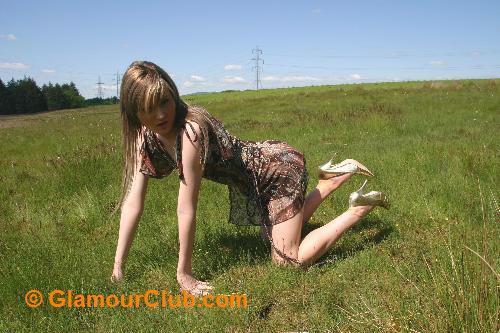 Model: Sarah Blue
Age at time of shoot: 23
Levels limit: Explicit nude
Shoot Style: Outdoor, Home
Year: 2008
Location: Sarah's home, Dunfermline, Scotland
Photo album: Sarah Blue Summer Dress
Number of photos in this album update: 59 (001-059)
For this first set Sarah slipped into a very short and flimsy summer dress wearing nothing but a pair of tiny red thong panties underneath. Her high heels weren't ideal for walking in the uneven field but they looked good with the dress.
Look out for some sexy upskirt shots and shots of Sarah in the doggy position with the dress riding up. Wearing no bra she also gives us some coy nipple flashing before finally going fully topless.
I have another seven sets of Sarah Blue from this shoot where she poses to explicit top shelf magazine style levels giving us loads of pink shots, so look out for her sets in the forthcoming restricted content website. As ever there will be some samples of these sets posted to the blog.
All photos from this shoot in high resolution see Sarah Blue Summer Dress.
Tease photos…