Here's a Xmas Treat for you (or should that be Xmas Teat

 )…it's the first ever blog update for one of the many rude photo sets that I've done.
Now for those of you who have noticed I have had the rude pics and video pay per view sites running for a couple of months now, but from now on I will also be blogging about these shoots and of course including some free teaser pics.
Scottish model Cher was 22 years old when I did a shoot with her in 2007 at Contrast Studios in Glasgow. She was a chatty young girl and far from shy. The sexy little brunette said she preferred girls to guys and her current partner was another girl! Certainly she treated her nether regions like a work of art having both a pierced clit and a love heart tattoo above her pussy.
During one pose where she was standing naked with me lying underneath her between her legs getting a close up shot right up her pussy, she suggested that this must be my dream job. If only that were true and I was doing this full time! However I guess she said that because it would also be her dream job since she fancied girls…
Cher Black Negligee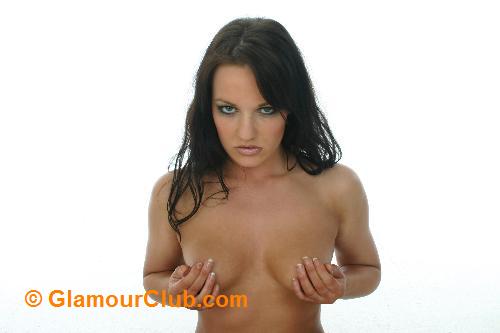 Model: Cher
Age at time of shoot: 22
Levels limit: Explicit nude
Shoot Style: Studio
Year: 2007
Location: Contrast Studios, Glasgow, United Kingdom
Photo album: Cher Black Negligee
Number of photos in this set: 123 (001-123)
For the first photo set from this shoot Cher slipped into a sexy black negligee and nothing else!
Cher pops her tits out straight away and is soon showing off her bum and completely bare pussy with open leg and doggy style poses. She also does some super hot ass cheek spreading and sticks her fingers up her pussy.
To purchase all photos from this explicit top shelf magazine style shoot in high resolution see Cher Black Negligee.
The image zip file also contains two more photo sets from this shoot which I will blog about in the future, so you get all 417 pics from the three sets when you buy.
Tease photos…