To purchase all 379 photos from this non-explicit nude style shoot in high resolution go to Ukrainian beauty Oksana G visits Scotland.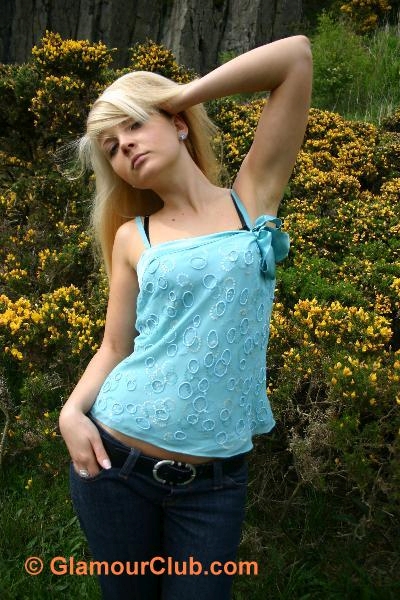 I must admit to having a bit of a soft spot (or should that be hard spot?) for Eastern European girls, and Ukrainian beauty Oksana G certainly falls into that category. She was 25 years old when we did this shoot although she looks younger. As you can see we got very lucky with the weather because sunny and a temperature well into the 20s doesn't happen very often in Scotland!
The location was in the middle of farmland in Ayrshire, a single track road off the main road to Castle Douglas. Ayrshire on a summer Saturday afternoon can actually be difficult to find a suitable location because so much of it is farmland, so you need to be careful not to trespass. The public parks and beaches are way too busy!
With that in mind I had already scouted this location so that we didn't waste time on the day of the shoot. I had to park the car at the gate into a farmer's field so left my mobile number on the dashboard in case any farmer turned up and decided to tow my car with his tractor…
There was no public path so you had to walk up the side of a farmer's field to get to it. It turned out to be a bit of a suntrap so the light was a bit on the harsh side.
I had intended to go and find another location but we ended up just shooting all the sets here.
As ever I don't photoshop out blemishes so you'll see a bruise on Oksana's leg. Keeping it real.
Oksana was intelligent to go with her fashion model style beauty. As well as modelling herself she was managing other models from the Ukraine.
She only worked up to non-explicit nude levels but there are still plenty nice standing shots of her full frontal where you can clearly see her outer pussy lips.
Oksana G Turquoise Top Part 1
Model: Oksana G
Age at time of shoot: 25
Levels limit: Non-explicit nude
Shoot Style: Outdoor
Year: 2007
Location: Farmland in Ayrshire, United Kingdom
Photo zip files: Ukrainian beauty Oksana G visits Scotland
Number of photos: 379
The first outfit of the day was the clothes Oksana arrived in, so a tight pair of jeans and strappy turquoise summer top. I think I took too many shots of her with her clothes on, but she rectifies that by the end of this update and strips down to sexy black underwear.
Look out for part 2 where the underwear doesn't stay on for long!
The BentBox zip files contain 7 different sets (379 pics): turquoise top, red skirt, turquoise dress, and nude towel.
More tease photos…