If you're one of the many fans of popular British model Rachelle Summers you'll enjoy her sharing a personal moment, taking a shower at home in an amateur style video clip.
Rachelle gives herself a rub down with some baby oil and we spy on her through the gap in the shower doors. Then she plays up to the camera with some slinky poses and pressing her boobs against the glass door.
Although not explicit nudity there are some nice shots of her pert bottom and full frontal views showing off her completely bare pussy. And for one so petite, what a sensational pair of tits Rachelle has too!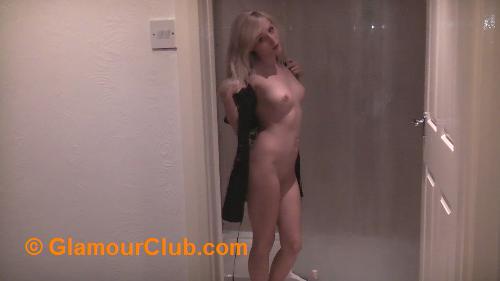 Model: Rachelle Summers
Age at time of shoot: 20
Levels limit: Non-explicit nude
Shoot Style: Home
Year: 2012
Location: Rachelle's home, Blyth, United Kingdom
Video WMV format: Rachelle Summers taking a shower at home or


Video MP4 format: Rachelle Summers taking a shower at home or

To view a short preview and purchase this video clip click the link above for your preferred video format, or click Buy Now.
Original blurb introducing this model see Rachelle Summers 20 year old from Newcastle.
Here are some actual screen grabs from the video clip, enjoy…