Blonde babe April Winters is a girl from my home city of Glasgow. She was 26 when I did this shoot with her in 2009, but she looked younger than that. I shot 4 photo sets then we finished the shoot with this video.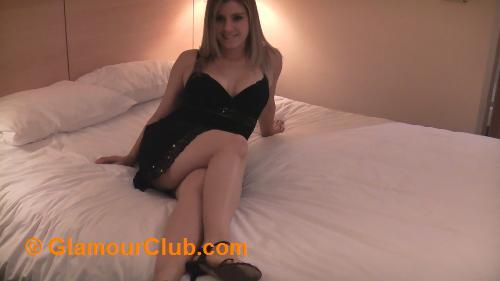 This was also my first ever effort at videoing a model using an HD camcorder (I had only previously messed around with video using a camera phone), and I didn't get anymore ambitious than leaving the camera in a fixed position on the tripod and zooming from there! If I were to video April again tomorrow I'd also have got in far closer with the video camera.
The hotel we used was only about a mile from my own flat. I had used my flat once before for a photo shoot but the lighting wasn't ideal so I decided it was better to book a hotel room. That said, the lighting in the hotel room wasn't up to much either but still better than my flat…
As for April, she was the wildest model I've ever worked with, a real handful!

 I think she was just doing modelling on the side for anyone who was willing to pay her to get naked, rather than having any aspirations of a career in modelling. She also wasn't experienced in shooting video, if at all. I kind of like that though as I've always set out to also have amateurs posing for Glamour Club.
Her 'amateur credentials' were further cemented when she insisted she wanted some alcohol to loosen herself up. It was a Saturday night so I think this was the party girl in her wanting to do what she usually does on a Saturday. Not what you expect from a model and at first I was reluctant to agree. But since she wasn't really a proper model and if it meant she'd be more relaxed, I decided to go along with it. We were too late for off licences though so I nipped back to my flat for some wine, vodka and juice.
It nearly backfired on me though as she did end up getting a bit too drunk, and when she went for smoking breaks I discovered she was out at her car in the capark blasting out some music, which didn't go down too well with the night staff at the hotel reception. However I must say when she got into the swing of posing for me she turned out to be great fun to work with.
After the video I was sat on the bed packing away my equipment (no not that, I mean my camera and video 

 ), and April plonked herself down next to me, still butt naked, and caught a fit of the giggles for about 5 minutes. I think the alcohol and masturbating on video had made her rather horny…but my sensible head kicked in to remind me this was a paid photo/video shoot and I didn't give in to any temptation!
Model: April Winters
Age at time of shoot: 26
Levels limit: Explicit nude
Shoot Style: Hotel
Year: 2009
Location: Hotel room, Glasgow
Video WMV format: April Winters playing with herself on hotel room bed or


Video MP4 format: April Winters playing with herself on hotel room bed or

To view a short preview and purchase this video clip click the link above for your preferred video format, or click Buy Now.
April starts off wearing a little black dress and a matching pair of black strappy high heels. She performs a seductive striptease for us then once she's completely naked gets down to the important business of playing with her pussy! 
Look out in the future for my blog updates for the 4 photo sets from this shoot where April poses to explicit nude levels.
Here are some actual screen grabs from the video clip, enjoy…