To purchase all 420 photos from this non-explicit nude style shoot in high resolution go to Classy brunette from Yorkshire Rebecca Bailey.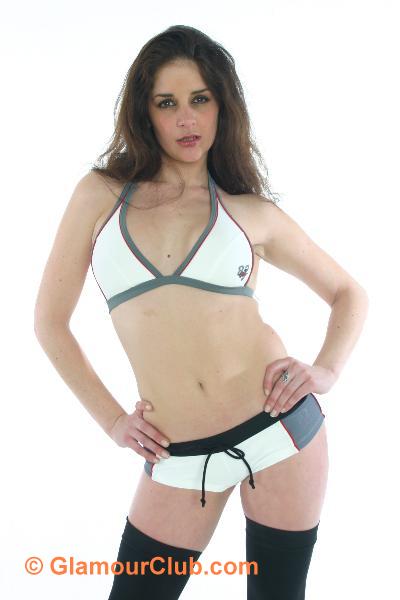 Rebecca Bailey is a classy brunette from Yorkshire who I shot back in 2006, at Contrast Studios in Glasgow. She has fake boobs which is normally a no-no for Glamour Club. However as far as boob jobs go I think the plastic surgeon did a great job on Rebecca as they are one of the most realistic pairs of fake tits I've seen. So I felt she deserved an airing on Glamour Club.
I also loved her sultry looks and perfectly smooth skin, a real classy looking girl. She was also quite posh so her personality matched her looks. Fair chance she was a former private girls' school pupil I reckon.
I can also reveal that she was a mother! A proper MILF if ever there was one.
Rebecca Bailey Black Stockings Part 1
Model: Rebecca Bailey
Age at time of shoot: early 20s but I can't remember her exact age!
Levels limit: Non-explicit nude
Shoot Style: Studio
Year: 2006
Location: Contrast Studios, Glasgow, United Kingdom
Photo zip files:: Classy brunette from Yorkshire Rebecca Bailey
Number of photos: 420
In the first set of my studio shoot with Rebecca she wore sexy sports underwear and black stockings. About halfway through this update she removes the sports bra to go topless.
That stool in Contrast Studios has had hundreds of sexy young bums sitting on it, lucky stool!
Look out for part 2.
The BentBox zip files contain 3 different sets (420 pics): black stockings, denim skirt, and naked.
More tease photos…