"Wow!" was my immediate thought when I opened the hotel room door to be greeted by the delicious sight of blonde babe Lisa Littleton
 . Quite simply a top notch babe that looked even better in the flesh than she had in her sample photos.
In fact the outfit you see in the first set is what she was wearing when she turned up. It had been a beautiful hot summer's day and it's fair to say Lisa was dressed appropriately in her short denim skirt, bare legs and strappy heels. She had also topped off her look with a straw hat which made her look cute as fuck. Shame I never told her to keep the hat on in some of the photos but I was too busy trying to concentrate on stopping my chin (and tongue) from hitting the floor
 .
Lisa was 23 at the time of the shoot but I think she looked younger don't you?
I had flown down to Southampton to shoot with her and was hoping to also do an outdoor shoot the following day in the New Forest. However Lisa said she had a hospital appointment and would text me mid morning to confirm. Unfortunately she didn't make it so you could say she let me down somewhat, but it was also her loss as she only got paid for one shoot. However I was happy with the hotel shoot and I guess it was also easy to forgive a girl as hot as her! 

Back in 2006 social media and smartphone use weren't what they are today, so I wasn't able to arrange a last minute shoot with another model. So I ended up with a day trip to Bournemouth instead where at least I got to see a few topless girls on the beach

 .
I would love to have taken Lisa to Ibiza to shoot as she had the perfect look for Ibiza, but she said she was just dipping her toes into modelling rather than doing it full time.
The shoot itself has an amateur style to it, as ever due to my limited lighting equipment (or rather lack of it). But I hope that means it will also appeal to some.
Lisa Littleton Clothed Tease Part 1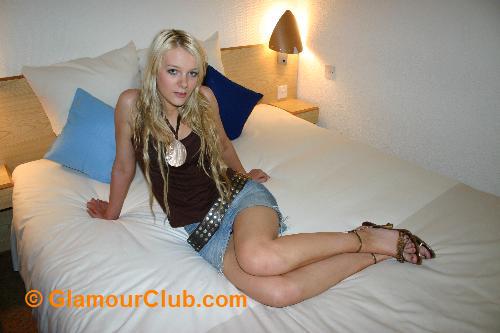 Model: Lisa Littleton
Age at time of shoot: 23
Levels limit: Explicit nude
Shoot Style: Hotel
Year: 2006
Location: Hotel room, Southampton, United Kingdom
Photo album: Lisa Littleton Clothed Tease
Number of photos in this album update: 40 (004-066)
For this first set Lisa keeps her clothes on but those sexy smooth legs and her beautiful face are still very pleasing on the eye. She also gives us some hot upskirt shots as well as hitching her skirt right up and spreading her legs to reveal a pair of seethrough flesh coloured panties.
I have another four sets of Lisa from this shoot where she was butt naked in all of them and poses to raunchy top shelf magazine levels including some luscious pussy spreading pink shots, so look out for her sets in the forthcoming restricted content section. As ever there will be some samples of these sets posted to the blog.
All photos from this shoot in high resolution see Lisa Littleton Clothed Tease.
Tease photos…