I photographed this model on the Glamour Breaks glamour photography holiday in Ibiza that I went on in June 2011. This was my second Glamour Breaks holiday having also done one in Portugal the previous summer.
She wasn't one of the main models on the trip but the organiser had arranged for her to do a group shoot at our villa for a few hours in order to give the two main models the morning off.
I don't remember her name so can only refer to her as 'Irish model', as she was a cool Irish chick who now lived in Ibiza. I also can't remember her age other than that she was in her late twenties. She was married to some local politician which I guess tells you a lot about how liberal Ibiza is that it's ok for a politician's wife to do nude modelling! Good on them I say!
In the space of a few hours we obviously didn't get to know her but she seemed an intelligent girl and had a beautiful softly spoken Irish accent. She also told me I had really nice eyes, you don't forget when a sexy model hands out a compliment like that! However I doubt she'd have been so complimentary about my beer belly lol!
You'll see from her nude poses that she has an 'old school' hairy style down below. Not the look I would usually pick for the Glamour Club website since this is a soft porn website, but for some this might be a nice contrast to the usual bare beavers that I normally publish.
Irish Model Near the Villa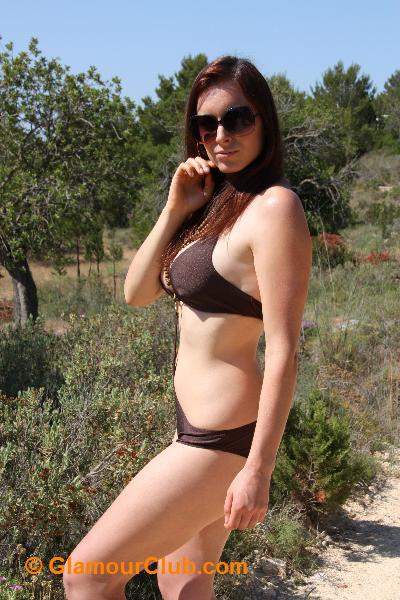 Model: Irish model
Age at time of shoot: late 20s
Levels limit: Non-explicit nude
Shoot Style: Outdoor
Year: 2011
Location: Near villa, Ibiza
Photo album: Irish Model Near the Villa
Number of photos in this album update: 61 (001-061)
These photos were taken close to the villa where the models and some of the photographers were staying. In this set the Irish model poses in bikinis and then goes topless.
All photos from this shoot in high resolution see Irish Model Near the Villa.
Tease photos…