Morgan was an 18 year old Scottish girl. An up and coming glamour model who had appeared in The Sun newspaper's Red Hot Totty contest.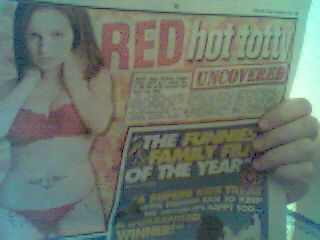 She only worked up to topless levels but I'm sure you'll agree that her magnificent 18 year old tits are worth seeing in all their glory. Great body all round and a fresh faced girl next door look about her too.
She was quite shy because this was one of the first times that she'd got her boobs out for a shoot. It would have been great to have got this girl totally naked, however in our correspondence beforehand it was clear that she didn't want to do anything more than topless.
Morgan Sexy in Black Part 1
Model: Morgan
Age at time of shoot: 18
Levels limit: Topless
Shoot Style: Studio
Year: 2005
Location: Contrast Studios, Glasgow, United Kingdom
Photo zip files: Morgan Sexy in Black
Number of photos in this set: 57 (001-060)
For the first theme Morgan went for a sexy office totty look. This is part 1 of 3 of this set.
Fairly quickly got her displaying her black bra and by the end of part 1 of this set we've enjoyed a few nice cleavage shots and she's nearly lost the trousers.
To see all 57 higher resolution photos from part 1 of this set check out the BentBox zip files, which contains photos from 6 sets in total (9 zip files).
Enjoy the tease photos.